New Show for 2015!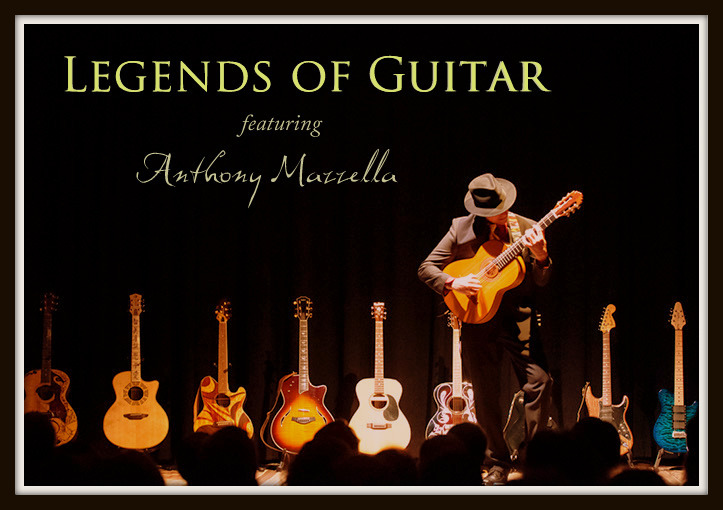 Legends Of Guitar is a tribute show to famous guitar players and their music. The show features world renowned guitar virtuoso Anthony Mazzella who plays it all live.
Legendary guitarists who's music is featured in the show are Jimi Hendrix, Eric Clapton, Carlos Santana, Jimi Page (Led Zeppelin), The Edge (U2), Pete Townsend (The Who), David Gilmour (Pink Floyd), George Harrison (The Beatles), Dave Murray (Iron Maiden), Keith Richard (The Rolling Stones), Randy Rhoads (Ozzy Osbourne), Eddie Van Halen, Stevie Ray Vaughan and more.
Legends Of Guitar reaches a very broad audience given the diversity of artists it pays tribute to. People love guitar music and are fanatical about the bands they play in. This show features the technical skills of the greatest guitarists and the music from some of the biggest bands.
Performances
The Phoenician Scottsdale Arizona. Fridays (Thirsty Camel) Feb 6, 13, 20, 27 9:00pm-12midnight.
Saturday Feb 28 (J&G) 7:00-10:00pm
Wrigley Mansion, Phoenix AZ. Thursdays Feb 5, 12, 19, 26...
Musical Instrument Museum Phoenix AZ, Jan 22 7:30pm
RELICS Sedona AZ, Saturday March 14, LEGENDS OF GUITAR. 7pm. Reservations 928-282-1593

Hilton Sedona AZ. Wednesday's Feb 4, 11, 18, 25. 5:30-8:30pm